---
The more and more I read and learn about the Alliance of American Football League, I find small-town, small-school guys that I instantly become fans of. Guys who are working their tails off to make a roster and live out a dream. When I started talking with Prince Shonola, he fit that persona perfectly.
Shonola is a 5'9″, 170-pound speedster who attended NAIA Rocky Mountain College where he played just about everything. Kick returner, punt returner, wide receiver, tailback, you name it he did it. Shonola set a school record when he ran a 4.33 40-yard dash just to put into perspective how fast this guy is.
We were fortunate enough to get in contact with Prince where I asked him a handful of questions.
---
BOP: How did you find out about the AAF?
PRINCE: I was recommended to try out for the AAF, from my close friend Timothy. I did some research a few months ago and when the opportunity presented itself, I registered through their website.
---
BOP: Who has had the greatest impact on your football career?
PRINCE: Out of respect, there has been so many individuals who have impacted my career as a whole. It would be an unjust act to try to name a few. I am thankful for all of those who have genuinely been apart of my journey.
---
BOP: What's going to be the biggest challenge you face moving forward on this new journey with the Arizona Hotshots?
PRINCE: I do not see any "big" challenges with the transition to the Arizona Hotshots but small hurdles such as learning to engage more with the community. Understanding my coaches philosophies and what is expected of me from the professional athlete perspective. Also, understanding the playbook inside and out. I am sure there will be a huge difference in verbage, than the playbook I had at Rocky Mountain.
---
BOP: What is there to do for fun in Billings, Montana?
PRINCE: Billings is a small town, with great community value and great food. The "Burger Dive" is very popular and is located in downtown Billings. The most fun I have had, was participating in team activites. Such as our annual talent show. I enjoyed the social gatherings and dining out with close friends. "Cornhole" is a big thing out there and can get pretty competitive but very fun! Most of my friends have gone snowboarding, hiking, and hunting. However, I did not get to do any of these while I was there.
---
BOP: Have you met Coach Rick Neuheisel or any other member of the team yet?
PRINCE: I have not physically met any coaches of my team yet, but have had interactions with a few players via social media.
---
BOP: If you could pick one Cornerback in the NFL to go against, who would it be and why?
PRINCE: Honestly, Xavier Rhodes. He is a big physical Corner, and can be a nightmare for most guys. His length at 6'1, makes getting off the press extremely hard. His production and IQ, make him a tough matchup. His ability to cover both outside and inside guys , he is dangerous at the line of scrimmage.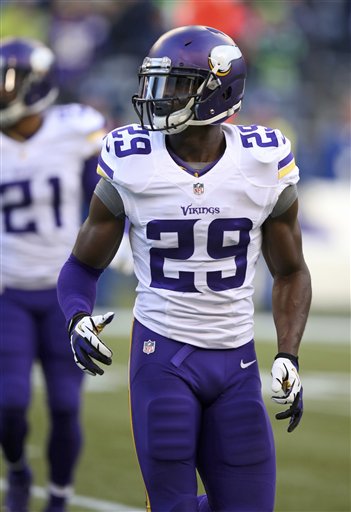 ---
BOP: Your predictions on this first season in the AAF? Team and individual.
PRINCE: As a team, I believe we will be championship contenders. With the high powered Offense we have, we can score at any time. With the hard nose Defense we can force uncomfortable situations for opposing offenses. And with our unmatched coaching staff, the minds we have in the driver seat speak volumes. We will be a very tough team to handle on a weekly basis.
As an individual, I hope to prove that I am NFL undiscovered talent. Scoring from anywhere on the field. From the Slot and Outside position as well as contributing on special teams. I predict a lot of excitement and entertainment from my style of play.
---
BOP: What was your favorite college beverage?
PRINCE: I would say Chocolate Milk and Water were my favorite beverages. I drank Chocolate milk after every workout and it quickly became a favorite.
---
I can tell you right now, once that #1 Prince Shonola jersey hits the Arizona Hotshots team store, I'm getting one. It was an absolute privilege to be able to talk with Prince. We wish him nothing but the best moving forward and we will be cheering you on from The Basement! (Challenge accepted in "Cornhole")
---
Check out Prince's Highlight tape from when he was at Rocky Mountain!
Learn more about the Arizona Hotshots HERE!