I have to say, the 2018 NFL season was by far one of my favorites in recent memory. Not only because the Bears are finally relevant again, although that helps, but because the level of play is much more exciting and there are so many good, young players that are starting to take the NFL by storm for years to come.
I made my selections for the NFL Awards. There are some of you who might argue my picks, and that's fine. What's the true definition of "Most Valuable Player?" Can a second year player win Rookie of the Year in the NFL just like in the NBA?
Read more below and find out who I picked for this years' NFL Awards!
---
NFC Award Winners
Offensive

 

Rookie of the Year –

Saquon Barkley

Saquon Barkley was one of the most fascinating rookies I've watched play football in quite some time. Whether it was running around, over, or simply jumping over people, Saquon did it all.
Barkley finished the season 2nd in the league in rushing yards with 1,307 and 5th in the league in touchdowns with 11. He was the Giants' leading rusher and 3rd leading receiver with 721 yards and 4 touchdowns. Saquon is the next big time runningback and the future of the NFL.
---
Defensive Rookie of the Year –
Leighton Vander Esch
As a homer, I really think Roquan Smith should be the NFC DROY. However, Leighton Vander Esch has had an incredible season and the fact that he wears an old school neck roll completely solidifies that this kid is an absolute badass.
Vander Esch finished 2nd in the NFL in total tackles with 102, and first in the NFC. He tallied 7 pass deflections, 2 INT's, and ended with 140 total combined tackles. The Cowboys have one the best young linebacking cores in the NFL with Vander Esch and Jaylon Smith, but not "the best" as Roquan and Trevathan take the cake. #BearDown
---
Offensive Player of the Year –

Drew Brees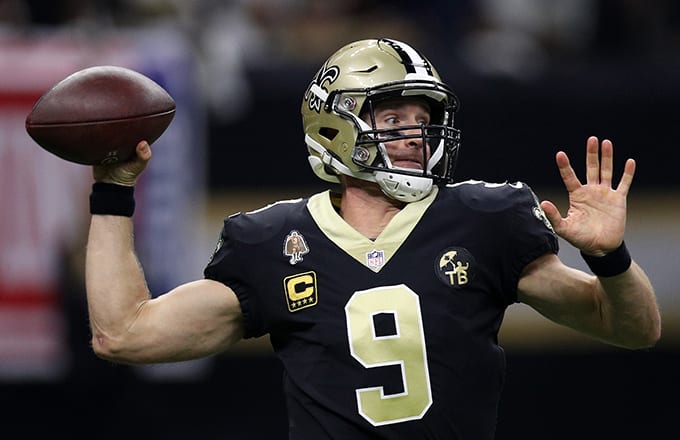 Some think Brees is worthy of the overall MVP. While I don't disagree, I found another players "value" much greater to their respective team than Brees.
Brees is almost 40 years old. He ended 2018 with 3,992 yards, 32 touchdowns, and a mere 5 INT's. He finished 6th in the NFC in passing yards and in my mind, would have blown that out of the water if that Saints weren't blowing teams out. The only reason Matt Ryan led the NFC in passings yards is because the Falcons were so bad and always out of the game and playing from behind.
Brees is on pace to take this Saints team to the Super Bowl, and is having one of the better seasons of his career.
---
Defensive Player of the Year –

Khalil Mack
I couldn't help it. Yes, Aaron Donald had a fantastic season, but the Bears without Khalil Mack might only be a 7 or 8 win team as opposed to 12. Crazy to think one player can have that kind of impact on a teams season, but it's true.
Mack was the transaction of the season in the entire league. He compiled 12.5 sacks, 6 forced fumbles, 2 recovered fumbles, 1 INT, and 1 TD. He is an absolute game changer. Oh, and by the way, the Raiders as a TEAM finished with just a half sack more than Mack did with 13. Pretty incredible.
---
MVP –
Russell Wilson

A lot of people are going to disagree here, and that's completely fine. Yes, it will probably be Drew Brees, and MUCH deserved. But, if we're going by "most valuable" to their respective teams, I think it's Russell Wilson.
The Seahawks paid Russell Wilson. So much so that they couldn't afford to keep their Super Bowl caliber defense together letting pro bowlers and all-pro players like Richard Sherman, Kam Chancellor, and Michael Bennett walk. The loss of all-pro safety Earl Thomas early on to a season ending injury looked to have doomed the Seahawks defense. Wilson has led the Seahawks to a 10-6 record and a playoff berth after many thought the Seahawks would be in rebuild mode. He threw for 3,448 yards, 35 TD's, and only 7 INT's. He also compiled a total QBR of 66.6, and added 376 rushing yards which was 3rd on the team. Without Wilson, Seattle is irrelevant and fighting for a top-5 pick in the 2019 NFL Draft.
---
AFC Award Winners
Offensive Rookie of the Year –
Lamar Jackson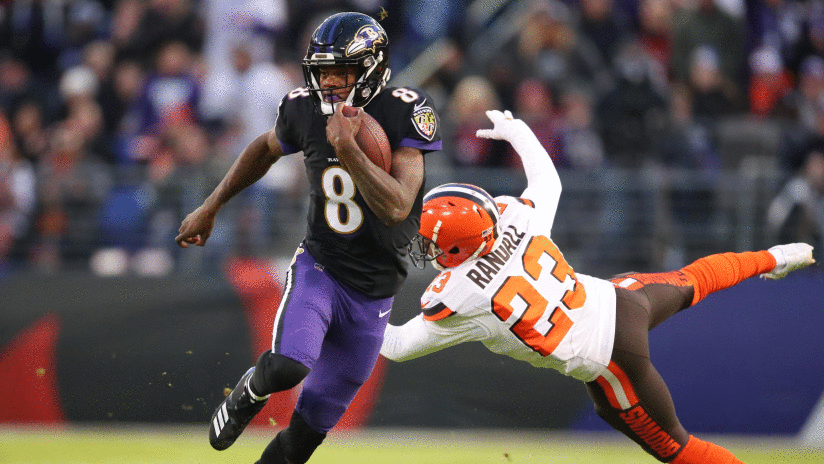 Lamar Jackson might have single handedly saved John Harbaugh's job. Since taking over as a starter in Week 11 against the Bengals, Jackson has led the Ravens to 6 wins out of the last 7 weeks of the season, while securing a playoff spot. He threw for 1,201 yards, 6 TD's and rushed for 695 yards (2nd on the team) and a team leading 5 TD's.
This kid has set the NFL on fire, and will be future of the Ravens franchise and maybe even the NFL for years to come.
---
Defensive Rookie of the Year –
Darius Leonard
The 2018 NFL Tackle King – Darius Leonard
Leonard finished 2018 with an astounding 163 total combined tackles, 111 solo tackles, 2 INT's, 4 forced fumbles, and 2 fumble recoveries. That's quite the stat-line for a rookie. I personally didn't get to watch much of Leonard, but you can't argue with this kids stats.
---
Offensive Player of the Year –
Patrick Mahomes

No brainer, right? I will whole heartedly admit that when the Chiefs drafted Mahomes I thought they were crazy. I really didn't think this kid was going to be this good. I was 200% wrong. I have never had this much fun watching someone play game of football and even more so the position of quarterback. Previously being one myself (and not one at a high level, but I still know a little bit about the playing the position) seeing what he did defied everything I was ever taught as a player. Rolling to his right and throwing 40+ yards across his body, rolling left and throwing it with his left, or rolling left and throwing a no look pass in football. I DIDN'T EVEN KNOW THAT WAS POSSIBLE! Simply amazing.
Mahomes finished 2018 with a league leading 50 touchdown piss missiles, and 5,097 yards. This kid is incredible and I was wrong about him.
---
Defensive Player of the Year –
J.J. Watt
You can make an argument for J.J. Watt as the 2018 Comeback Player of the Year, which he may very well get. But I think this guy is much more deserving of the AFC DPOY.
This dude finished with 16.0 sacks (2nd behind Aaron Donald's 20.5 and giving him 92.0 in his career) 61 total tackles, and a league leading 7 forced fumbles. J.J. Watt continues to produce every single year, despite all the injuries. He's my pick for DPOY in the AFC.
---
MVP –
Andrew Luck
Alright, here we go…
"HOW CAN YOU PICK LUCK AS YOUR MVP OVER MAHOMES?! ARE YOU NUTS?!"
Listen people, I'll tell you the same thing I said about Wilson…I feel as though Luck's worth is MORE valuable to his team than that of Mahomes to Kansas City. After all, the award is called "Most VALUABLE Player", right?
Everyone was writing Luck off. "He can't throw a football anymore, he's injury prone, bust, etc." He, just like Watt, is a Comeback Player of the Year candidate. But his worth and what he did this year is so much more than that. Without Luck, the Colts are NOTHING! Literally.
Luck threw for 4,593 yards and 39 TD's. He finished 5th in the league in passing yards and 2nd in passing touchdowns. This guy is my MVP, neckbeard and all.
---
Miscellaneous NFL Awards
Executive of the Year –
Chris Ballard (IND)
I've had to sit through the last 10 seasons of Bears football under the direction of Jerry Angelo and Phil Emery. It wasn't fun. While Ryan Pace seems to have completely resurrected my beloved Chicago Bears franchise and seems to be worthy of the 2018 NFL Executive of the Year, what Chris Ballard has done in Indianapolis is nothing short of amazing.
When Ballard "hired" Josh McDaniels to be their next head coach and then McDaniels backed out, it seemed to have been a monumental mistake that some said would set the franchise back a number of years. Ballard was left in a rut. All other coaches on the market had been hired and found a new job. He was running out of time and had slim pickings. He ended up hiring Frank Reich, whom many thought was the weakest of the free agent head coaches. Ballard proved us wrong, as Reich led the Colts to a 10-6 record and a playoff berth after many NFL experts picked the Colts to finish in the bottom third of the league.
One of the quieter yet, in my mind, most impressive moves Ballard made was working out a trade with the Jets in March that netted the Colts additional second-round picks in 2018, as well as another second-round pick in 2019. Ballard headed into this year's NFL Draft with nine picks at his disposal. Ballard also did a little more wheeling and dealing during the draft, and the Colts ended up with 11 picks total — the most they've ever had since the draft moved to seven rounds back in 1994. All these moves, and Ballard still ending up with his guy, Quenton Nelson, who already looks to me a perennial pro-bowler. Ballard has done an amazing job, and the Colts are set up to be super successful over the next 10+ years.
---
Coach of the Year –
Matt Nagy
Again, most reading this know I'm a Bears fan and will claim I'm only picking Nagy because of that. Many will also argue that Andy Reid should be the NFL Coach of the Year. Personally, while Andy Reid is deserving of this award, Nagy is even more so deserving as he has done more with less.
Nagy took over a shit show of a franchise. The Bears finished with 5 wins a year ago and were an absolute mess on offense. Nagy comes in and completely changes the culture, leading the Bears to 12 wins and their first division title and playoff berth since 2010. I love what Nagy has done and the Bears are set up to be a Super Bowl contender for at least the next 4 years.
---
Comeback Player of the Year –
Deshaun Watson
Deshaun Watson was on pace to have an MVP type season last year before suffering a season ending ACL injury. Anyone who has ever torn their ACL knows there's a good chance you never come back the same. He came back nearly better.
Watson started 2018 fairly slow, going 2-2 in the first 4 weeks of the season. Since that time, Watson took Houston on an absolute tear winning 9 games in a row and clinching the AFC South title; their third in the last four seasons.
He threw for 4,165 yards, 26 TD's and completed nearly 70% of his passes. He also chimed in with 551 yards rushing and 5 TD's.
---