Not a lot of shake up this week, however, the Warriors jumped to the top and the Rockets and Thunder were my biggest fallers of the week.
One thing I want to talk about, and hopefully we bring it up this weekend on the podcast, is the fact that starting next week NBA officials will interact with fans and discuss calls in real time over Twitter during select high-profile games for the rest of the season. This will be interesting…As if refs didn't catch enough heat in real time for missed and blown calls. Now they have to whip out their phones at half time and Tweet with average joes about why they didn't call Harden's 6 step back jumper a travel. Sheesh.
**
NR

DENOTES NOT RANKED**
---
1. Milwaukee Bucks (32-12) 
↔️
For the third straight week, my Milwaukee Bucks own the #1 spot in my power rankings. The Bucks won 3 in a row this week, and 8 out of their last 10. They're 1st in the NBA in point differential, 2nd in points per game at 117.6, 1st in the NBA in total defensive rating, and 6th in pace. The Bucks have looked like a completely different team from last year and to be totally honest, if they keep playing this way I don't see a single team in the East winning 4 out of 7 games in a series come playoff time.
---
2.Golden State Warriors (31-14) ⏫5️⃣
Aaaaaannnnddd just like that, the Warriors are back on top of the Western Conference. The Warriors have been on a tear as of late, winning 6 in a row and 8 of 10. They also drilled the (at the time) first place Nuggets 142-111 Tuesday night in what I look at as a "statement" game. One thing to keep an eye on…DeMarcus Cousins is set to return tonight. I'm interested to see how this transition works with the Warriors finally playing well again and consistent at that. It will either spark them and take this surge to a completely different level, or it will implode the Warriors. Grab your popcorn!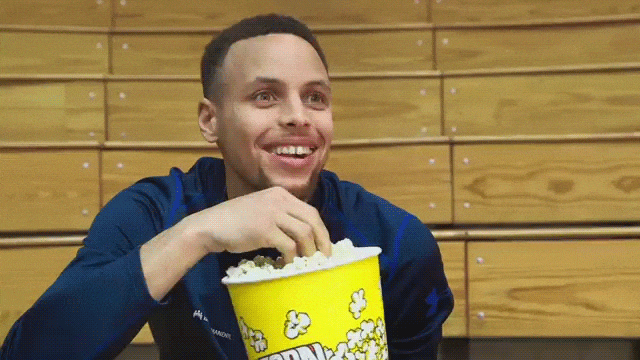 ---
3.Toronto Raptors (34-13) 
⬇️1️⃣
The Raptors are up to 34 wins this season, the most of any NBA team thus far. they've won 8 of 10 and keep playing well. Kawhi leads the team in 3 of 5 major statistical categories. Looks like trading Derozan for Leonard ended up being the right move.
---
4. Denver Nuggets (30-14) 
↔️
The Nuggets are no longer in first place in the West which means their Cinderella season is over…. Just kidding! Denver is still hot, winning 7 of 10, however, got drilled by the Warriors Tuesday night which ended up knocking them back a spot in the Western Conference. Still sticking on the Nuggets bandwagon…for now.
---
5.Indiana Pacers (27-14)
⬆️1️⃣
The Pacers still remain quiet yet deadly. 3rd in the East and they've won 7 of 10. I'm not sure whether to be impressed with the Pacers or discouraged because the East might just be that bad. Time will tell.
---
6. San Antonio Spurs (26-20) ⬇️ 1️⃣
The Spurs are down a spot but only because a few teams made a jump. The Spurs are still rolling as they've won 7 of 10 and are holding strong to that 6th spot in the tough Western Conference.
---
7.Philadelphia 76ers (30-16) ⬆️2️⃣
I have to give the 'Sixers credit, they've won 30 games and are playing pretty good basketball. I'm not a Jimmy Butler fan and even as a Jayhawk fanatic, I really can't stand Embiid. I think they're the real reason I don't ever give the 76ers credit in the first place. The 'Sixers won 3 in a row this week and 7 of 10.
---
8.Portland Trail Blazers (27-19) 
↔️
The Blazers stand pat this week at 8. They're 4th in the West and have won 7 of 10.
---
9. Boston Celtics (26-18) NR
Kyrie apologized to LeBron so I had to put them back in the top-10.
---
 10. Utah Jazz (25-21) NR
The Jazz might be the hottest team in basketball right now. They've won 5 in a row and 8 of 10 inching their way towards the 8th spot in the West. Keep a close eye on them moving forward. I also want to point out if I were to compare myself to an NBA player, it would be Joe Ingles. Lefty, white guy, dad bod, not very athletic, probably drinks too much beer, and is a great shooter. Joe Ingles is by far one of my favorite players in the NBA. Check out what he said the other night.
---
DROPPED OUT
Houston Rockets (25-19) 3️⃣
Had to drop them out (sorry Bear). They've lost 3 of their last 5…1 of them I understand as it was the best team in the NBA, Milwaukee Bucks. But the other two were to the Magic and the Nets. Harden scored 58 and they STILL lost to the Nets. Not much "value" (Giannis for MVP) in scoring 58 and losing to Brooklyn.
Oklahoma City Thunder (26-18) 9️⃣
The Thunder are like that one really cute girl that everyone has the hots for but never wants to commit too because you don't know if three days from now she's going to blow you away or completely disappoint you. The Thunder are still in the top-3 in the West, but have only managed to win 4 of their last 10 games.
---
MY OUTSIDERS LOOKING IN
Brooklyn Nets         Los Angeles Lakers
Los Angeles Clippers