A product of Tripoli, Iowa, Karter Schult is as rough & tough as they come. Schult played 8-man football as a fullback and defensive lineman. While his high school resumé is as solid as they come, he didn't get many scholarship offers. As a matter of fact, he only received one Division I scholarship; Northern Iowa.
At Tripoli High School, Schult was an absolute animal. The Tripoli Panther team captain was a three-time first-team all-state player on the defensive side of the ball. A first-team all-district pick for three straight years, and the 2011 National Guard Impact Player of the Year. Keep in mind this was all while playing 8-man football. He was also a multi-sport athlete. Schult was a two-time second team all-conference pick in basketball, and a first team all-conference selection in baseball. Not only was this kid an absolute freak of an athlete, but he has the brains as well. Schult was a three-time academic all-district honoree in football, two-time academic all-conference in both basketball and baseball, a member of National Honor Society, and an honor roll student. Having only one scholarship offer from in-state Northern Iowa, Schult decided to commit to another Panther team in 2012.
After redshirting his first year at UNI, he played in all but three games over the next 3 years for the Panthers.
In 2015, Schult got out of the gates fast. He opened the season with 8 tackles, including 2.0 sacks for a loss of 11 yards against Iowa State. 2015 was his best career season. He set the UNI record for tackles for loss in a season with 23 and tackles for loss in a game with 5. He finished the season with 82 tackles, including 61 solo and 21 assisted and led the team in sacks with 15.0, ranking him second all-time at UNI in season sacks. Schult ranked as high as No. 7 in the FCS rankings in sacks and tackles for loss at No. 15. Schult started all 14 games for UNI in 2015. He earned a spot on the FCS All-America team as a second-team player and was a Missouri Valley first-team  all-conference defensive player. He was also named a Missouri Valley Scholar-Athlete first-team member. Along with those accolades, Schult was a CoSIDA (College Sports Information Directors of America…..I admit, I had to Google that) Academic All-America first-team and a member of the CoSIDA Academic All-District first-team. He made his mark at UNI and many locals had expected Schult to enter the 2017 NFL Draft.
Obviously, Karter Schult had a very impressive college resume, however, it didn't get the attention of NFL scouts. NFL.com had predicted Schult would go undrafted. Unfortunately, that was true as he went undrafted in the 2017 NFL Draft and became an undrafted free agent.
This didn't stop Schult from chasing his dream of becoming a professional football player. He worked and worked and was eventually signed by the Cleveland Browns. During his very first preseason, Schult saw some action. He totaled 11 tackles and had one and a half sacks. But, that wasn't enough as the Browns parted ways with Schult at the end of the 2017 preseason and unfortunately didn't play football at all for the rest of the year as no other team signed Schult.
Then, Schult got his second chance. He signed with the Carolina Panthers (how cool is it to have played for three different Panther teams at all three levels?) but was released shortly after. Schult's NFL career was looking gloomy…
Enter The Alliance of American Football League.
Karter Schult is exactly the type of player the AAF was looking for. Dudes that had NFL talent but were unemployed. Guys that didn't want to play in Canada but still had aspirations to live out their dream to play pro football. But they had no way to do this. NFL teams wanted nothing to do with these guys. They had no platform to prove they could still play ball. Then, the AAF started and Schult signed with the Salt Lake Stallions and boy, has he made a name for himself in this league.
In the Stallions first ever game, he registered 4 solo tackles, 1 sack, and 2 quarterback hits. The very next week against the Iron, Schult was BETTER. He compiled 6 solo tackles, 2 sacks, and 4 quarterback hits. We watched this game and he was in on every single play.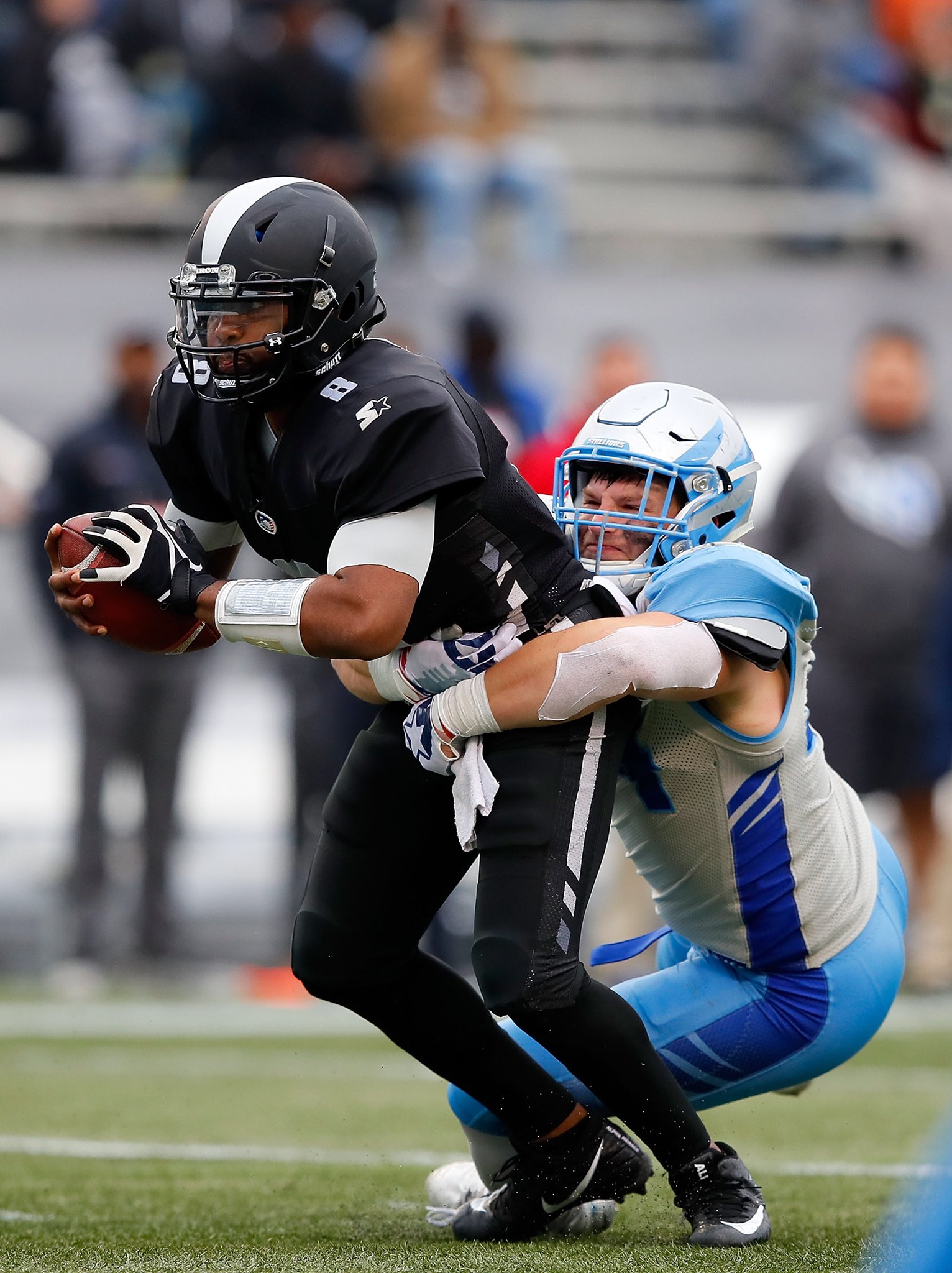 Not only has Karter Schult gathered the attention of AAF players and coaches, he's got some love from the National Media as well. I read an article last week on Bleacher Report about  10 AAF players who could be playing in the NFL next season. Karter Schult was #9.
To me, this is exactly why guys like Karter Schult are in the AAF. To prove to the NFL that they can still play football at the highest level. I'm cheering for Schult. Being a small-town, midwestern boy myself, it's guys like this that you want to see succeed. Guys who have given their absolute all just to be given one shot at making it big. The AAF has been nothing short of amazing these last two weeks and I love seeing guys out there giving everything they've got to get a shot at an NFL roster. Being raised in a football coaches house, having two younger brothers that have gone through the grind of college football, one on his way to playing Division 1 college football in the same conference as Karter Schult. I know how much work guys like this have to put in. The amount of sacrifices you have to make to live out your dream. It's not easy, but it's all worth it, and that's what the AAF is all about.
---
Week 3 AAF Schedule
Saturday
Arizona Hotshots @ Salt Lake Stallions

| 2:00 PM \ Bleacher Report Live
Memphis Express @ Orlando Apollos

| 7:00 PM \ NFL Network
Sunday
Birmingham Iron @ Atlanta Legends

 

| 3:00 PM \ CBS
San Antonio Commanders @ San Diego Fleet

 

| 7:00 PM \ NFL Network