The NFL Draft is typically one of my favorite events of the year. I love reading all the pre-draft hype and doing my research on draft prospects. This year was a little different though, and different in a good way. For the last handful of years, I got pretty serious and went all in on doing my homework on prospects because the Bears had a top-5/10 pick. Not this year. (Thank you, Jon Gruden!) I can't remember an occurrence in recent years when I didn't watch the first round of the draft. I actually enjoy it so much that I told my siblings (who are all die-hard Avengers fans) that I would without question watch the first-round of the NFL Draft over opening night of 'Avengers: End Game.' They called me crazy. So, for all you Avengers fans who missed the first round of the draft last night, I'm here to give you a recap on the best and worst and my favorite and least favorite picks on night one.
The Worst Pick |

Clelin Ferrell, DE – No. 4, Oakland Raiders
I love Jon Gruden. I really do. But he never fails when it comes to being incredibly unpredictable and surprising people. Gruden hired former NFL Network analyst Mike Mayock to join him as the Raiders' General Manager. Last night when they selected Clelin Ferrell 4th overall, to me it was clear that Gruden and Mayock were trying to prove to the NFL world that they were the smartest guys in the room and knew something everyone else didn't. Keep in mind the Raiders also had the 24th and 27th pick later in the first-round last night. Probably not the best approach. In my opinion, they could have easily drafted Ferrell with one of those later picks and taken someone with the likes of Devin White or Josh Allen, whom I think had more value at number 4.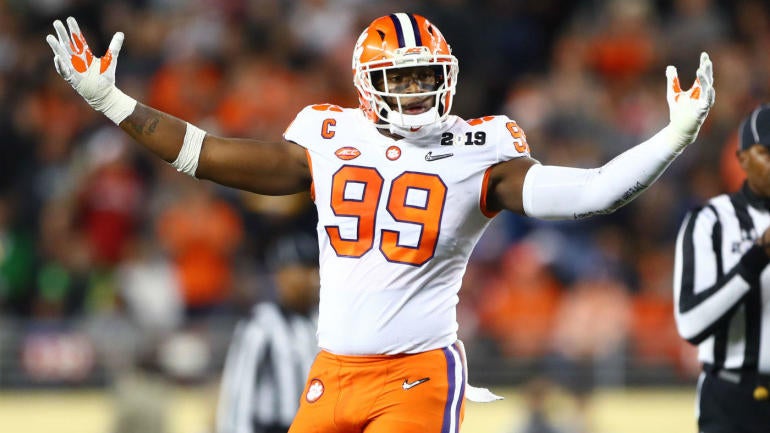 The Best Pick |

Devin White, ILB – No. 5, Tampa Bay Buccaneers
Just as I had mentioned previously, I think Devin White should've went sooner in the draft to someone like the Raiders. The best pick in the draft last night was a no brainer to me. Devin White, an inside linebacker from LSU, is an absolute freak and reminds me a lot of my boy Roquan Smith from the Bears. Watching some of the film ESPN had on this guy last night was jaw dropping. The way White covered the field with his speed was incredible. He's a sure tackler and has great instincts. Tampa Bay not only filled a need, but they got the best player available. He's an early pick for me as DROY.
Biggest Reach |

T.J. Hockenson, TE – No. 8, Detroit Lions
Don't get me wrong, T.J. Hockenson is a hell of a prospect and I'm all about getting a good tight end in today's game, but the Lions need defense and they need it bad. In a draft that is absolutely littered with star studded defensive players, the Lions took Hockenson at 8 as opposed to a pass rusher or defensive back. In my opinion, Hockeson wasn't even the best tight end on the board. I think his teammate, Noah Fant, was the better of the two and he also went in the first-round last night. Personally, if I'm the Lions' GM, I'm taking defense with the no. 8 pick. Somebody like Ed Oliver, Devin Bush, or Dexter Lawrence. All in all, I'm okay with the pick as I love seeing NFC North teams draft poorly. #BearDown

Least Favorite Pick |

Kyler Murray, QB – No. 1, Arizona Cardinals
Now, before everyone thinks I'm one of the Kyler Murray haters, pump the brakes. I like Murray and I hope we does well. But I just don't like this pick. They drafted a QB in Josh Rosen in the top-10 last year and have already given up on him. Oh, and by the way, they traded UP to get Rosen. I like Josh Rosen and I don't necessarily think it's fair to give up on this kid after one season. One that forced this kid into the fire where he played behind the worst offensive line in football and had the worst coaching staff in football. I want to see Kyler Murray succeed and I think he'll be good; I just don't agree with the draft strategy (or lack thereof) of the Cardinals.
My Favorite Pick |

Daniel Jones, QB – No. 6, New York Giants
I'm in the minority here, but I absolutely love this pick. I'm a firm believer in "if you see something you want, go out and get it," and that's exactly what the Giants did. They saw their guy and they went out and got him. Jones might not have been the sexy pick and it's not the quarterback everyone else would've drafted, which is exactly why I love this pick, but the Giants addressed a need and got the best player available on their board. They needed to draft the heir apparent to Eli and you can't hate or criticize them for drafting Jones at 6 if they feel he's that guy. I can tell you that I'm rooting for this kid.
My Favorite Pick 2.0 |

Darnell Savage Jr., DB – No. 21, Green Bay Packers
Savage in graded as a 2nd round talent and the Packers traded up to get this guy. I love it! Seeing the Packers do dumb shit makes my heart happy. They traded up 9 spots and gave up both of their 4th round picks to get him. Darnell Savage is an undersized safety with what appeared to be below-average speed and instincts. You know it's a bad pick when Green Bay trades up to get this guy and they don't have any highlights of him or show him on TV getting the phone call at his draft party. We joked and said he probably had his draft party scheduled for tonight, so he was nowhere to be found. Eventually, ESPN scrambled to call up Big Ten Network and they pulled 3 highlights (2 of which against Rutgers…. just sayin'..) out of the archives and threw it on TV. It's clear that Green Bay could have gotten this kid at some point today, but they traded up, gave up two fourth rounders this year, and flat out reached. Go Pack Go!