Not a huge Bob Marley fan, but Bucks fans, as Bob Marley would say, "Don't worry about a thing. Every little thing is gonna be alright." To be totally honest, the first thing that came to my head was "relax Bucks fans," but everyone here in Wisconsin knows who said that before and I'm not about to quote Aaron Rodgers in this post.
I will whole heartedly admit that during Game 1 on Sunday, I was very quiet and shell-shocked watching that game. Even an hour or so afterword I still wasn't sure what to think. I was starting to panic. My Sunday Funday was ruined…. totally kidding, it wasn't. Still had plenty of Bud Light left. But then I remembered the Bucks are the best team in basketball for a reason, and truthfully, the Detroit series didn't prepare the Bucks one bit for Boston. I remembered that this isn't the NCAA tournament; they play 7 games in a series for a reason. Bucks fans, I'm here to talk you off the ledge. Everything is going to be ALRIGHT! Here's my keys to a win tonight in Game 2.
Counter Boston's Physical Play
Brad Stevens has always been my idol. Seeing a young coach (like myself) take a Butler basketball program and turn it into a household name in the college basketball world was something I wanted to do. The way he coaches, prepares, and leads his players, was how I envisioned myself as a coach. Seeing what he did on Sunday to scheme against Giannis and take him out of the game was absolutely no shock to me, even though it was incredibly hard to watch.
Brad Stevens and the Celtics' game-plan was to get as physical as possible with Giannis and take away the paint. He shot 14 shots in the paint Sunday… 13 of them contested. Which is hard to do on Giannis. How do the Bucks counter Boston's physical play?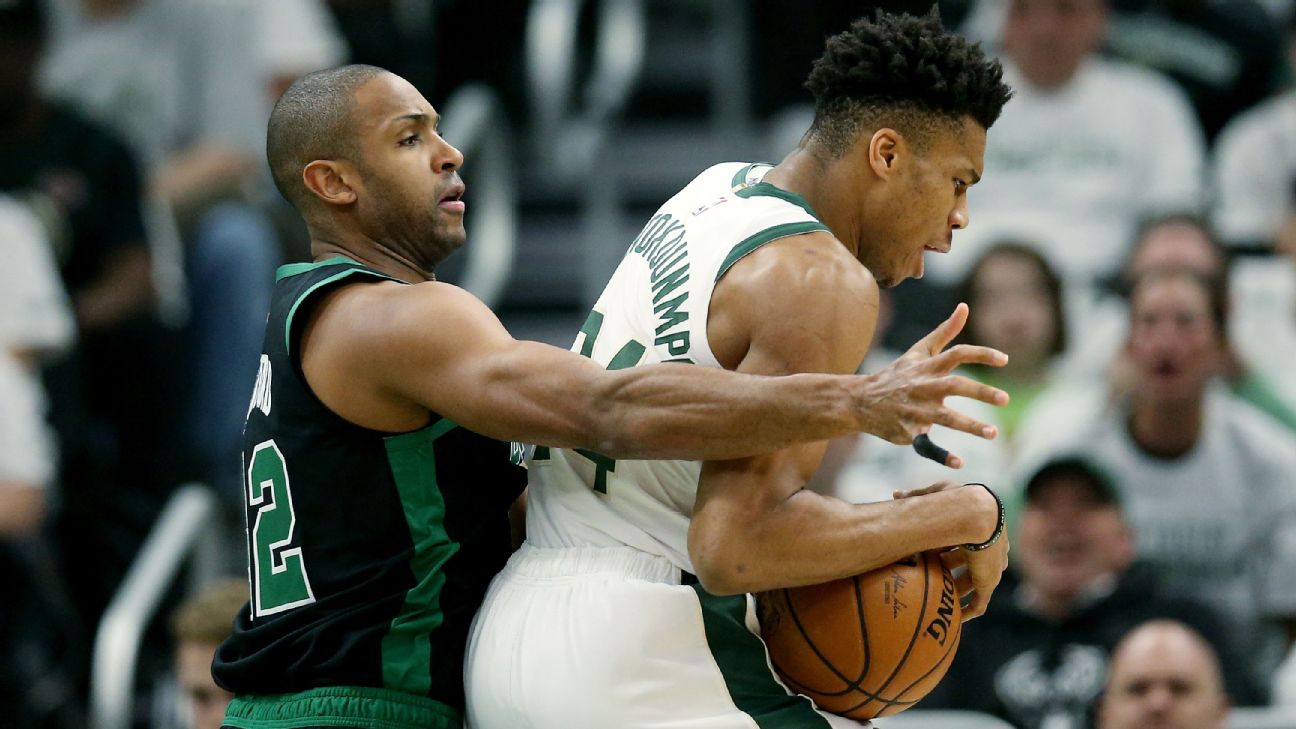 Speed up the game.
I said it over and over watching the Bucks atrocious shooting and half court offense on Sunday… GO! GO! GO! Get out and RUN! Get Giannis into the break and let him work! Let's be real Bucks fans, it's clear the Bucks can't beat the Celtics in a half-court game. They will continue to get out-schemed. I think in order to be successful in this series, the Bucks have to increase their pace of play and get out on the break and score.
Brook and Bledsoe need to play as they have all year
Two of the main reasons Milwaukee was as successful as they were this season was because of the play of Brook Lopez and Eric Bledsoe. There's no way around it, these two didn't show up on Sunday. The duo of Brook and Bledsoe shot for a combined 2-10 from the field and 1-8 from 3-point land. The Bucks are going to need a better performance from these guys tonight if they want to come out on top.
Defend the screen & roll, and limit points in the paint
I wish I kept track of the number of on-ball, off-ball, and stagger screens Boston ran on Sunday. It seemed like every possession they were setting two, three, if not four screens per possession. The Bucks defense couldn't figure out how to stop the staggered ball screen action Boston ran. It's a set they used throughout the game and gutted the Bucks inside with. The changes are easier said than done, as Boston has so many options out of this set thanks the brains of Brad Stevens, but I'm confident in Coach Bud making the right adjustments.
To me, it looked like Boston primarily ran it with Gordon Hayward as the ball-hander, which shocked me at first knowing they have guys like Tatum and Kyrie, but then I realized it allowed him to get into the paint and get his type of shot or dish to a big rolling to the rim. ⬇️
All in all, the Bucks NEED to do a better job defending the screen & roll. Brad Stevens' staple is ball and player movement through screens. Budenholzer is also a great coach and as I said earlier, I'm confident that tonight heading into Game 2, he will make the right adjustments. One that I hope I see is the Bucks continuing to force Hayward and all ball handlers to kick the ball to the perimeter instead of giving up shots at the rim or in the paint. Boston scored 38 points in the paint and shot an astounding 54% from the field. I don't anticipate (and hope to God) Boston doesn't shoot as well or get the amount of high percentage looks they did in Game 2.
My Prediction
Overall, I expect Giannis to play better along with the entire Bucks team. The Bucks didn't get a lot of their shots to fall that typically were shots they've made on a consistent basis all year. I expect the Bucks to increase the pace of play and get out on the break more tonight. Lastly, I expect the officiating to be a little different tonight. I don't ever want to blame officiating on a loss, especially Sunday because the Bucks didn't deserve to win that game with how they played, but there were a lot of calls the Bucks weren't getting that the Celtics did get. I expect and hope to see more calls and more consistent calls tonight.
The score:
Bucks 118, Celtics 104 | Series tied 1-1